How to Organize Medicine and Vitamins
One of the great debates between me and my husband is where to store the vitamins. Cold and flu medicine we agree makes sense to keep tucked away, but vitamins that we intend to take daily are easily forgotten when they're hidden inside a cupboard.
The problem is, he wants easy access and convenience, I want clutter-free countertops. Finding a solution is all the more complicated by the fact that some vitamins and supplements need to be taken on a full stomach (kitchen storage), while others are best taken right before bed (bathroom/bedroom storage).
So what is the solution? I did a deep dive into the best solutions for how to organize medicine and vitamins. Luckily there are some GREAT organizational solutions that will solve problems of both convenience and aesthetics. I'm sharing my organizing process and best discoveries below.
Declutter and Dispose of Expired Medications
Before you think about re-organizing anything, it's essential to take inventory of what you already have. Pull out every vitamin and medicine bottle from your cupboards. Don't ignore bathroom medicine cabinets, the back corners of kitchen medicine cabinets, and even the inside of your purse and diaper bag.
Once you have collected all of the medicine, vitamins, and supplements start checking expiration dates. Note any medications that need to be replaced or medications that went unused and likely don't need to be purchased again. Don't waste money or resources on medicine your family doesn't need!
Expired bottles need to be thrown out – but make sure you dispose of medications responsibly!
Responsible Medication Disposal Tips
The best place to start is by reading the comprehensive FDA guide to the disposal of unused medicines. To summarize, the FDA recommends removing any personal information from prescription drug bottles, then disposing of medications at a drug take-back location.
If you aren't close to a drug take-back location, then your next step is to determine if your medicine is on the FDAs flush list. "Medicines on the flush list are those (1) sought-after for their misuse and/or abuse potential and (2) that can result in death from one dose if inappropriately taken" (source: FDA).
If your medicine is not on the flush list, then the FDA recommends mixing pills or liquid medicine with an unappealing substance (dirt, cat litter, etc.) in a sealed plastic bag. Throw the plastic bag away in the trash (source: FDA).
Sort into Categories
Once you have collected and decluttered your vitamins and medicine it's time to categorize.
If your family has a large number of prescription medications, or if you like to take a wide variety of supplements then you will have more categories. Below are some common categories for medicine and supplements.
Medicine and Vitamin Categories
Pain relief
Cold and flu
Prescriptions
Vitamins and supplement pills
Powders (protein and otherwise)
Another way to categorize would be by the time of day. Some medicines and vitamins are best taken right before bed. Others need to be taken with a meal.
In these cases, it may make sense to store meal-time vitamins in the kitchen to take with breakfast. Bedtime vitamins might be best stored near your bathroom or bedside to take before falling asleep.
Store Medicine and Vitamins Properly
Now that you have categorized your supply of medicines and vitamins, let's discuss good storage options.
Best Storage Conditions for Medicine and Vitamins
Far from heat
Away from light
Minimal humidity
With these conditions in mind, consider storing your medicine and vitamins in a dry, dark cabinet or drawer. A lidded box is another good option.
But what if you are like my husband and want to see the vitamins you need to take every day? How do you keep vitamins and medicine out as a visual reminder to take your daily dose without compromising their quality?
I have a long list of ideas below for how to display your medicines, vitamins, and supplements on a countertop in a visually appealing way.
Contain and Display
Now it's time for the fun part – containment! Once you have determined which cabinets, drawers, or countertops will be dedicated to organized medicine and vitamins, it's time to choose attractive containment options.
Exposed Storage for Vitamins, Supplements, and Medicine
If you can relate to the phrase "out of sight, out of mind" then perhaps you'd prefer an exposed storage solution for daily vitamins and prescriptions. Here are attractive containment options worth considering.
Pillboxes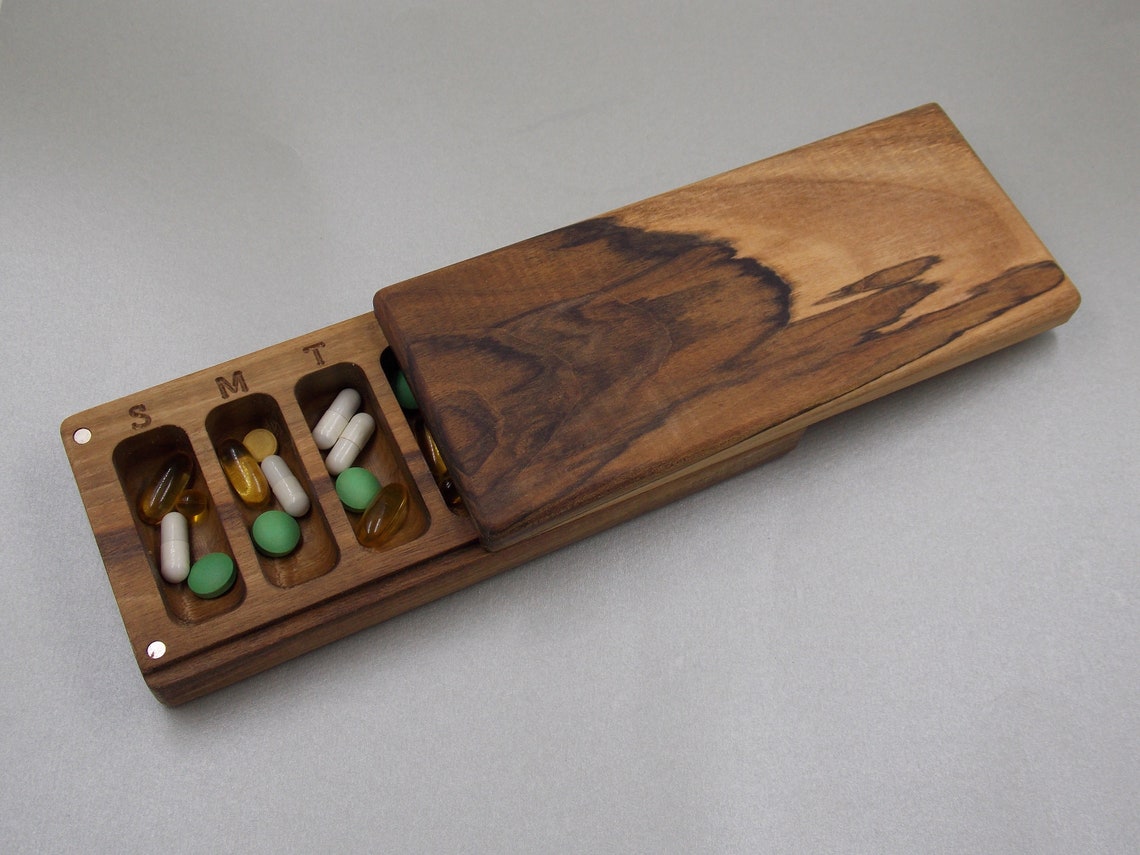 Maybe you're someone who likes to pre-distribute your daily supplements into a pill box. You can use a common plastic design or invest in an elevated plastic-free version like this or this smaller size These wooden pill boxes are so beautiful, you can feel good about leaving them on display.
Decanted Daily Vitamins in Jars
Like spices, vitamins can be decanted into matching glass jars for an aesthetically pleasing display. If you choose to decant your vitamins, choose opaque or dark amber glass jars with a tight seal. These will minimize light exposure. Don't forget to also keep the desiccants (moisture removal packets) in the jars to minimize humidity exposure as well.
Of course, make sure to keep your vitamin and medicine jars (especially those without child safety lids) FAR out of reach of children. Label them clearly (this is the affordable non-digital label maker I use and recommend).
I would even take labeling one step further and transfer important information like dosage and usage instructions to a sticker label on the back of each jar. I'd write expiration dates on masking or painter's tape stuck underneath each jar to easily remove and replace every time I refill the jar.
RELATED: How to Remove Stickers from Glass
Contained on a Tray
If you know your vitamin habit won't stick unless you store them on a countertop, consider containing them on a pretty tray.
Lazy Susans
RABAHA 13″ Acacia Lazy Susan Organizer for Table – Wood Lazy Susans Turntable for Countertop -…
🍀Environmentally mindful design – If you're looking for a practical addition to your kitchen, our Lazy Susan made of 100% Acacia wood is the perfect solution. This top-quality wood is 100%…
✨Conveniently accessible – Allows for effortless access to kitchen items, even when stored on high shelves or in tight corners. With our rotating kitchen turntable storage organizer, everything is…
🌀Provides all-around accessibility – Thanks to its 360-degree rotation bearing, accessing items is effortless. Simply give it a spin, and anything you need is instantly reachable from any angle.
The lazy susan is one of my favorite inventions for an organized kitchen. I use them all the time – medicine is no exception! Use a 2 tier lazy susan inside of a cabinet for separating kids' and adult medications.
Use a lazy susan on your counter near your blender to contain your favorite powders and supplements.
Magnetic Shelf
Yamazaki Home Storage Caddy Magnetic Spice Rack | Steel, One Size, White
SMALL SPACE SOLUTION: Keep all your spices, jars, or supplements organized in one spot with this Yamazaki magnetic spice rack. Suitable for refrigerators, or other magnetic surfaces. Great for anyone…
VERSATILE: All you need is a metal surface to attach this in any room of the house. This magnetic shelf can help create more space in a cluttered kitchen. This can also be used for cosmetic supplies…
MODERN DESIGN: This clean, sleek, simple, and stylish spice rack looks great on any magnetic surface. Made of steel, it includes a non-slip rubber mat to keep containers from sliding. This rack…
Magnetic shelves like this one are a great space-saving organizing hack for people living in smaller homes. Attach one or two to the side of your fridge for an easy containment solution for medicine and vitamins.
Wall Mounted Cubes
This is such a clever storage solution for bulk pantry items in a kitchen – supplements and otherwise. Each drawer is clear so you can visually see what you have and what needs to be replenished.
I think this solution is best for powders because pills and capsules require minimal humidity exposure and these drawers aren't air-tight. Regardless I could imagine dedicating drawers to protein powder, collagen powder, greens powder, magnesium powder, mushroom powder, and any other powdered supplements you're into.
Hidden Storage for Vitamins, Supplements, and Medicine
In our home, we like to keep medicine that is used sparingly tucked away in a kitchen cabinet. But we also want the ability to see and access all of our medicines so we don't accidentally purchase yet another bottle of kids' Tylenol again before we need to!
Here are a few organization ideas for hidden vitamin and medicine storage.
Repurposed Plastic Food Containers
Practical, affordable, and sustainable. If you're transitioning away from plastic food storage containers but don't want to throw them away – consider repurposing them for medication storage!
You can utilize various sizes for different first-aid purposes. One container to hold bandages and Neosporin. Another container for cold and flu medicine. A third for pain relief, and so on.
Here are more ideas for ways to repurpose plastic food storage containers.
Hikidashi boxes
Another affordable and sustainable organization solution – hikidashi boxes! You can make them yourself by upcycling small cardboard boxes or shoe boxes. Wrap them in attractive wrapping paper or contact paper and use them to contain your medicine and vitamins.
You will be minimizing waste and creating an attractive storage solution for organized medicine and vitamins.
Wood Boxes
MobileVision Bamboo Storage Box, 9"x12"x 6", Durable Bin w/ Handles, Stackable – For Toys…
HIGH CAPACITY & MUTIFUNCTION STORAGE bins made from beautiful high quality bamboo. Dimensions: 12″x 9″ x 6"
STACKABLE STORAGE ORGANIZER – Space-saving and convenient to store your stuff. Stackable. Light weight and easy to carry. Great for organizing baby clothes, diapers, underwear, socks, toys, albums,…
STURDY & STYLISH CARRY ALL BIN – Dual handles make it sturdy and easy for transportation of belongings. Simplicity in design will beautify the baby's nursery, office, craft room, laundry room,…
Store wooden boxes inside of a cabinet to hold supplements and vitamins. I think this larger solution works well for people with a collection of protein, collagen, or other powders that they use in daily smoothies. It's easy to pull out the box from a cabinet each time you plan to make a shake!
Hanging Storage Inside Pantry Door
Most of us open our pantry door multiple times per day, which makes it a great place to store daily vitamins and supplements. If you aren't ready to drill into your cabinet or pantry door then consider a hanging shelf solution. There are great options for full-size pantry doors as well as smaller cabinets.
Mounted Storage Inside Pantry Door
Sale
Rev-A-Shelf 18″ 3 Tiered Pull Out Shelf Organizer for Kitchen Cabinets, Pantry Storage Spice…
MAXIMIZE YOUR KITCHEN SPACE: Maximize space and efficiency in your kitchen with this 18-inch wooden 3-shelf cabinet spice rack
3 SHELVES: Door-mount spice rack features 3 fixed shelves. These shelves are designed to hold standard spice bottles (2.25-inch) and have a 7" height between shelves
EASY INSTALLATION: Fully assembled maple wood construction with a clear coat finish for durability. This unit installs easily to cabinet door with only 4 screws; Patented door mount brackets have up…
Not afraid to drill a few holes? These mounted shelf storage solutions would be perfect inside of a pantry door or on a wall near your kitchen.
Pull-Out Shelf Rack
Kitsure Spice Rack 2 Packs – Durable Pull Out Spice Racks for Kitchen Cabinet, Easy-to-Install Spice…
⚠️【Not suitable for cabinet edges with lip】
【EASY INSTALLATION】: MEASURE YOUR CABINET FIRST. Measure 4.33"W x 10.23"D x 8.54"H. Just install this spice rack for cabinet with a few screws, and you can store more spice bottles than before….
【SMOOTH SLIDING】: The slide rails are manufactured with a ball bearings system to ensure a smooth slide, so you can slide the rack with a full load of spice bottles effortlessly. At the same time,…
If you aren't shy about drilling inside your cabinets, consider installing one or two of these pull-out shelf racks.
Countertop Bread Box
For those with plenty of countertop space, keep vitamins and supplements inside a bread box! When closed, it becomes a dark, dry, and visually appealing storage solution for your most important vitamins.
Maintain Your Organized System
You have decluttered, sorted, and contained your vitamins and medicine. Now all you have to do is maintain your new system! I suggest scheduling time to check expirations twice a year. That is also a good time to dust and clean whatever storage containment system you invested in.
Final Thoughts
Now that you know how to organize medicine and vitamins you are better equipped to maintain daily vitamin habits and keep important medications stocked at all times. Here's to staying healthy!