Best Eco-Friendly Dishwasher Pods
Dishwasher detergent pods are an amazing invention for simplifying your dishwashing routine. You just throw them in and go, no messy measuring. But do you ever wonder if the single-use pods you've been using in those big plastic containers are harming the environment?
Don't worry, you don't have to sacrifice the convenience of pods to find a more sustainable option. Here are the best eco-friendly dishwasher detergent pods on the market today.
Our Favorite Eco-Friendly Dishwasher Pods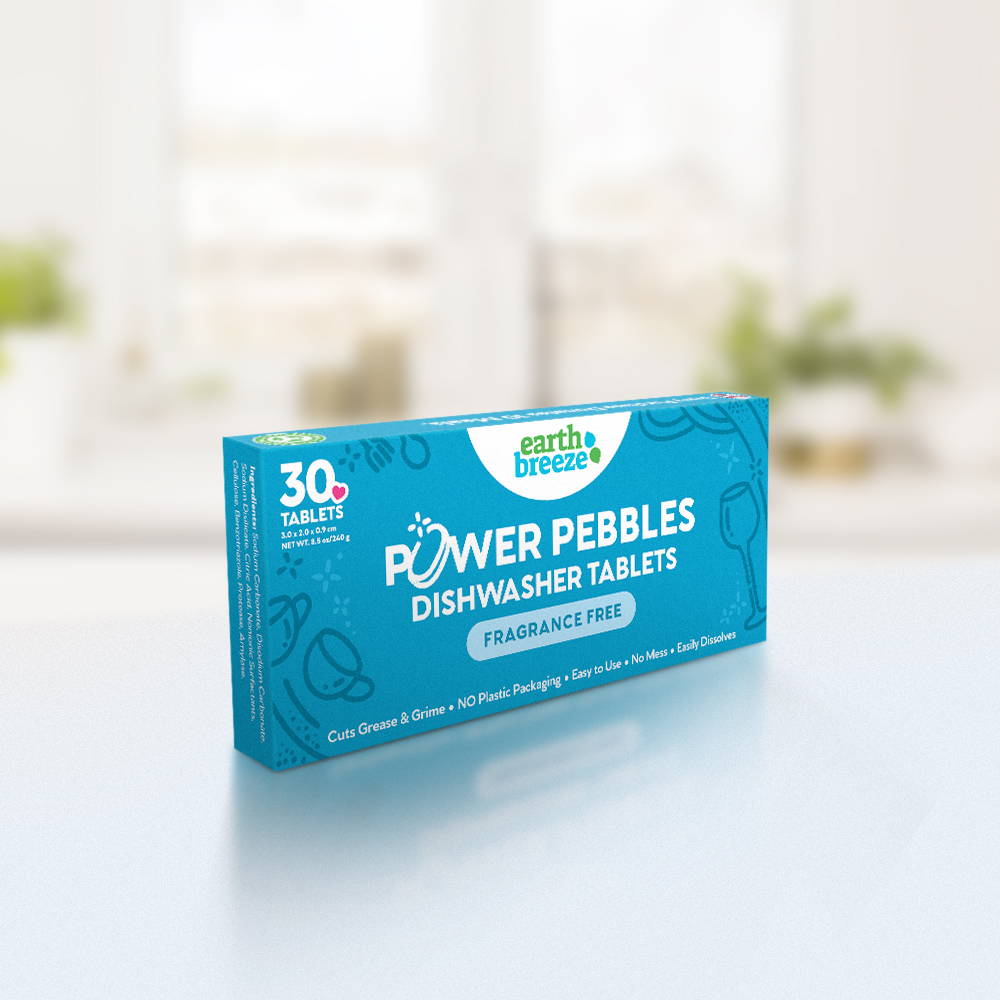 These pods come in completely biodegradable packaging, so there's no worries about recycling or the landfill. They dissolve easily in the dishwasher leaving no leftover residue, and reviewers love the cleaning power of these pods. Earth Breeze also offers a fragrance free option for their dishwasher pods, which is great if you are sensitive to fragrances.
Pros:
Completely biodegradable packaging, down to the ink
Cruelty free, vegan, and carbon neutral
Free shipping
Cons:
Polyvinyl Alcohol coating on the pods
Specs:
Price per load (at time of publish): $0.46
Active ingredient: Sodium Carbonate
Coconut surfactant is the main cleaning agent in these dishwasher detergent pods, which is all natural and biodegradable. It also will not leave dishes with any residue. While these pods are scented, reviewers say the scent is very subtle and will not bother even the most sensitive of noses.
Pros:
No phthalates, dyes, or phosphates
Completely recyclable packaging
Cons:
Some reviewers say the water soluable wrapper didn't fully dissolve in their dishwasher
Specs:
Price per load (at time of publish): $0.53
Active ingredient: Coconut Surfactant
Blueland dishwasher detergent pods are what I use every day in my house. I switched over from my old Cascade dishwasher pods several months ago and I'm never looking back. These pods have no coating around them, so they always dissolve fully every time and my dishes have never been cleaner.
The starter set comes with a very aesthetically pleasing container to keep the pods in that is reusable, and the packaging it ships in is all plastic-free.
Pros:
Budget friendly
No phthalates, parabens, phosphates
Vegan, cruelty free, soy free, gluten free and nut free
Cons:
Have to be careful to keep the pods stored in the container away from moisture
Specs:
Price per load (at time of publish): $0.56 (with the starter set) $0.35 (for refills)
Active ingredient: Sodium Carbonate
These Grove detergent pods are made with all natural ingredients with a triple action enzyme formula that cuts through grease and stains. The reviewers love the fragrances, which are all added from completely all natural ingredients.
Pros:
Free of all harsh chemicals, including all the phthalates and phosphates
Budget friendly
Cons:
No guaranteed free-shipping
Recyclable but still plastic packaging
Polyvinyl alcohol coating
Some reviewers struggled with a residue left behind
Specs:
Price per load (at time of publish): $0.35
Active ingredient: Sodium Carbonate
Puracy dishwasher detergent pods tout a plant based formula with enzymes that will break down food and leave dishes crystal clean. The company explains that they've put a new level of research and development into these pods, citing significant improvement over the first two generations of the product due to the involvement of a chemist with 30 years of experience.
Pros:
Mineral based water softeners
Safe for greywater and septic systems
Hypoallergenic, free of all harsh chemicals
Cons:
Specs:
Price per load (at time of publish): $0.40
Active ingredient: Sodium Citrate, Sodium Carbonate
Oxygen-based cleaning agents give these pods an extra cleaning edge, without sacrificing all natural ingredients. These pods come in various scents for preference, and promise clean dishes with no residue.
Pros:
Compostable packaging
No dyes, phosphates, or phthalates
No animal testing
Carbon neutral shipping
Cons:
Polyvinyl alcohol coating on the pods
Specs:
Price per load (at time of publish): $0.39
Active ingredient: Sodium carbonate
Why Choose Eco-Friendly Dishwasher Detergent?
Dishwasher detergent pods are the primary form of dishwasher detergent these days, and for good reason. The single-use pods are very user-friendly, and they're often less messy than their measured-out counterparts. Since these pods are single-use by nature, it's a good idea to choose an eco-friendly option to avoid adding pollutants to the environment with every load of dishes.
Ingredients to Avoid in Dishwasher Detergent
Synthetic Fragrance
Synthetic Fragrance can be found in all kinds of things, from makeup to dishwasher detergent, but there is good reason to search for products that avoid these fragrances. More than 75% of products that list synthetic fragrances have phthalates, which have been linked to disruptions in hormone activity and certain cancers.
Dyes
Much like synthetic fragrances, synthetic dyes are found in various products in a wide range of industries. These dyes are particularly bad for the environment due to the extreme conditions required to synthesize them. Petroleum, a non-renewable resource, is often used in their production as well.
Phosphates
Phosphates are a common ingredient in dishwasher detergents, used to soften hard water and enhance cleaning power. Unfortunately, it also has serious consequences for the body and the environment. The residue of phosphates on dishes can cause anything from stomach troubles to skin irritations, and they have a devastating effect on marine ecosystems.
Zinc sulfate
Zinc sulfate is a naturally occurring chemical that is found in animals, plants, and soil. Zinc is also a necessary vitamin for humans to function properly. However, when zinc sulfate makes it into the environment, it can be highly toxic to freshwater fish. When it's used in dish detergent, zinc sulfate can easily make it into the water and prove very harmful for those ecosystems.
Hydrozincite
Hydrozincite is another ingredient found in some popular dishwasher detergent brands, but it also is very damaging to any aquatic life it comes into contact with, not to mention if too much is swallowed or comes into contact with skin, it can have detrimental effects on humans too.
What is Polyvinyl Alcohol and Should You Avoid it?
Polyvinyl Alcohol is the thin, biodegradable plastic wrapping that surrounds most dishwasher tablets and some laundry pods. There is a lot of debate in the industry about whether this biodegradable ingredient is actually as safe for the environment as the detergent industry claims. Polyvinyl alcohol dissolves in water and then runs through wastewater treatment.
The problem is there is concern that this plastic solution can pass through these water treatments and enter the ecosystem. Further research is needed to know for sure what kind of impact Polyvinyl alcohol has on the groundwater and the environment as a whole.
Still, there is reason to proceed with caution regarding this biodegradable plastic.
FAQs
What is the best dishwasher detergent for hard water?
Any option that has sodium citrate or carbonate as an active ingredient will help neutralize the effects of hard water. Most of these detergent pods use sodium carbonate as the active ingredient, so there are a bunch of great choices to help soften that water. I have hard water in my house, and my Blueland pods work great for this purpose.
What happens to the plastic in dishwasher pods?
The plastic in dishwasher pods breaks down as the cycle runs, and ends up in water treatment facilities. Much of this plastic isn't broken down completely in these facilities, and can end up entering the waterways.
Are pods or liquid detergents better for the environment?
Dishwasher detergent pods are made with less water and less waste, but anything without plastic involved is the best option. A lot of it comes down to packaging, but if you can find pods with recyclable (or compostable) packaging and no polyvinyl alcohol coating, that's the safest environmental option.